Pre-Marriage BootCamp
Saturday, October 24, 2020 from 9:00 AM to 1:00 PM
Education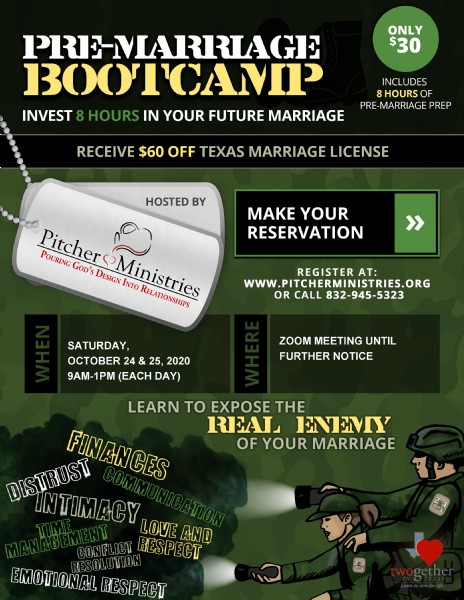 is your "best friend" especially when it pertains to marriage. We educate ourselves in every other area of life, so please don't neglect marriage!
Soldiers never go into battle without studying their enemy FIRST! The same is true for marriage. We need to understand that there are real enemies waiting to cripple us when it comes to our future!
Join us for a 2-day (4 hrs. each day) fun and interactive Pre-Marriage BootCamp to help better equip and prepare you for your future marriage and receive $60 off your Texas marriage license.
You are about to embark upon a lifelong journey with the one you love and we want you to be as prepared as possible.
You will receive some valuable tools and weapons to help you navigate through the minefields that can sometimes rear their heads in our relationships. We will march straight into the strengths and differences of males and females. We are going to tackle the issues of communication, conflict, money, intimacy, emotional well-being, love and respect, love languages and MUCH more!
PRIOR to marriage is the time to INVEST in YOU! We are here to help you AVOID "damage control" years later! The best gift you will give your marriage is the gift of preparation and intentionality. NEVER has it been easier than from the comfort of your own home via Zoom. So do not delay, register today!